Granite sealing – premium quality
Maintenance and cleaning of granite
Even if a granite table or a floor or sink made of this stone is naturally considered to be robust, this natural stone also needs regular maintenance – after all, it should look permanently beautiful and shiny. Expensive and noble granite, which wears out in the long run and thereby becomes dull and unsightly, often requires a new cut and sealing. Regular wiping with special cleaning agents will preserve and lastingly improve the natural beauty of the granite. For maintenance, the floor can be rubbed with ammonia and then with floor wax. Outside, strong alkalis (e.g. powder and tabs for the dishwasher) can work wonders with light soiling from dust and moss. Damp salt can help with fresh stains. It is much more difficult to remove greasy stains with wax or oil. In this case, moisture-absorbing powders or special pastes have proven effective. These should act according to the manufacturer's instructions, wipe them off and repeat them several times. Our cleaning agent concentrate BIOSATIVA® could be used here. This is suitable because it is completely biodegradable. There is no loss of cleaning power.
Definition and composition
Granites are igneous rocks that are formed from molten rock. The massive and relatively coarsely crystalline igneous rock is rich in feldspars, quartz and dark minerals such as mica. Granite is formed by the solidification of magma (rock melt) within the earth's crust, mostly at depths of more than two kilometers below the earth's surface. For this reason, granite is one of the deep rocks. The required quartz content of light minerals for granite must be at least 20 percent to a maximum of 60 percent. In most cases, granites are light-colored rocks. In addition to white, reddish or yellowish colors, there are also multi-colored variants – however, granite is never completely black. This is exactly where granite differs from gabbros or basalts, especially since these do not contain any quartz. This aspect should be taken into account in the natural stone trade, as these stones have nothing to do with granite and are often less robust.
Properties and classification
One of the great advantages of granite can be seen in its robustness. It is not for nothing that expressions such as "hard as granite" or "bite on granite" have become established, referring to the resilience of the rock. Granites can look very different even with the same chemical composition. The color of the minerals and their grain size are mainly responsible for the numerous different variants. Granite is generally medium to coarse grained. It has a relatively uniform appearance, which results from the homogeneous mineral distribution with mostly directionless texture. Its structure is characterized by a direct grain association, with the crystal size usually fluctuating between one and several centimeters. In addition to granites of the same size, in which almost all crystals are of the same size, it is not uncommon for granites of irregular grain or porphyry to occur. In this case the individual crystals – mostly so-called feldspars – are several times larger than the other minerals.
Our granite sealing achieves a unique long-term effect due to its depth effect, which makes the stone look good in the long term and effectively and permanently protects against all external influences. Due to the lotus effect, water will simply roll off the surface in the future.
---
Product video: Sealing of granite slabs indoors and outdoors
Product features
Highly effective professional granite sealant with a depth effect and a water-repellent lotus effect
Item number: 3005-7620
New version with improved effectiveness against fat and red wine (formerly item number 3005-620)
High quality made in Germany
Product safety
Information about the classification of the product within the scope of the Hazardous Substances Ordinance, safety data as well as data on toxicology and storage can be found in our safety data sheet.
storage
V24 granite sealing must not be brought into contact with moisture. Storage should take place at temperatures between -10 ° C and +40 ° C.
V24 granite sealing has an unlimited shelf life in the original sealed container.
Scope of delivery:
1 x liter bottle
1 x pump spray head

✓ Effective permanent surface protection against water, dirt and weathering
✓ prevents the growth of mosses, lichens, fungi and other natural influences
✓ no change in the look and feel of the surface (absolutely invisible)
✓ extreme abrasion resistance due to long-chain silicon compounds (SiO²)
✓ Long-lasting depth effect due to high penetration depths of up to 25mm (depending on the absorbency of the stone)
✓ The surface remains breathable (open to diffusion), so there is no barrier layer and no waterlogging
✓ absolutely frost-resistant (ice and snow do not cause any damage)
✓ UV stable
✓ Easy-to-clean effect: dirt does not adhere and can be easily removed
✓ Durable for many years, as the seal forms a covalent (permanent) bond with the surface
✓ Skin-friendly and food-safe
✓ environmentally friendly
✓ Recommended application temperature +5 to +25°C
---
use
V24 granite sealing is delivered ready-to-use and is applied undiluted to the pre-cleaned and dried surface.
All surfaces to be treated must be dry and well cleaned, as this is the only way to ensure a deep penetration of the sealant, which has an optimal long-term and deep effect.
After application, the V24 natural stone sealing remain in contact with the surface as a film of liquid for several seconds.
The coating is completely crosslinked and cured after 24 hours.
A detailed description of the application can be found in our data sheet
Suitable for all mineral, absorbent, open-pored granite surfaces indoors and outdoors. Coverage approx. 40-70m² / liter.
✓ Granite tiles
✓ Granite window sills
✓ Granite slabs
✓ Granite sink
✓ Granite tables
---
Color table for granite
Mineral content (%) coloring
Kalifeld- or Orthoklasspat 40-60 mostly strong red / reddish / pink, only rarely green / bluish
Plagioclase feldspar 0-30 mostly white to white-gray, only rarely colored
Quartz 20-40 mostly colorless / transparent, only rarely pink / blue-gray / gray
Mica (biotite) 0-15 gives numerous granites a dark contrast
All types of granite have one thing in common: they are harder compared to other common types of natural stone. In view of the high quartz content, all types of granite are ideally suited for kitchen countertops, interior floors and other polished surfaces that have to withstand heavy wear and tear. According to this, granite is a versatile building material that immensely enhances the building or the outside area.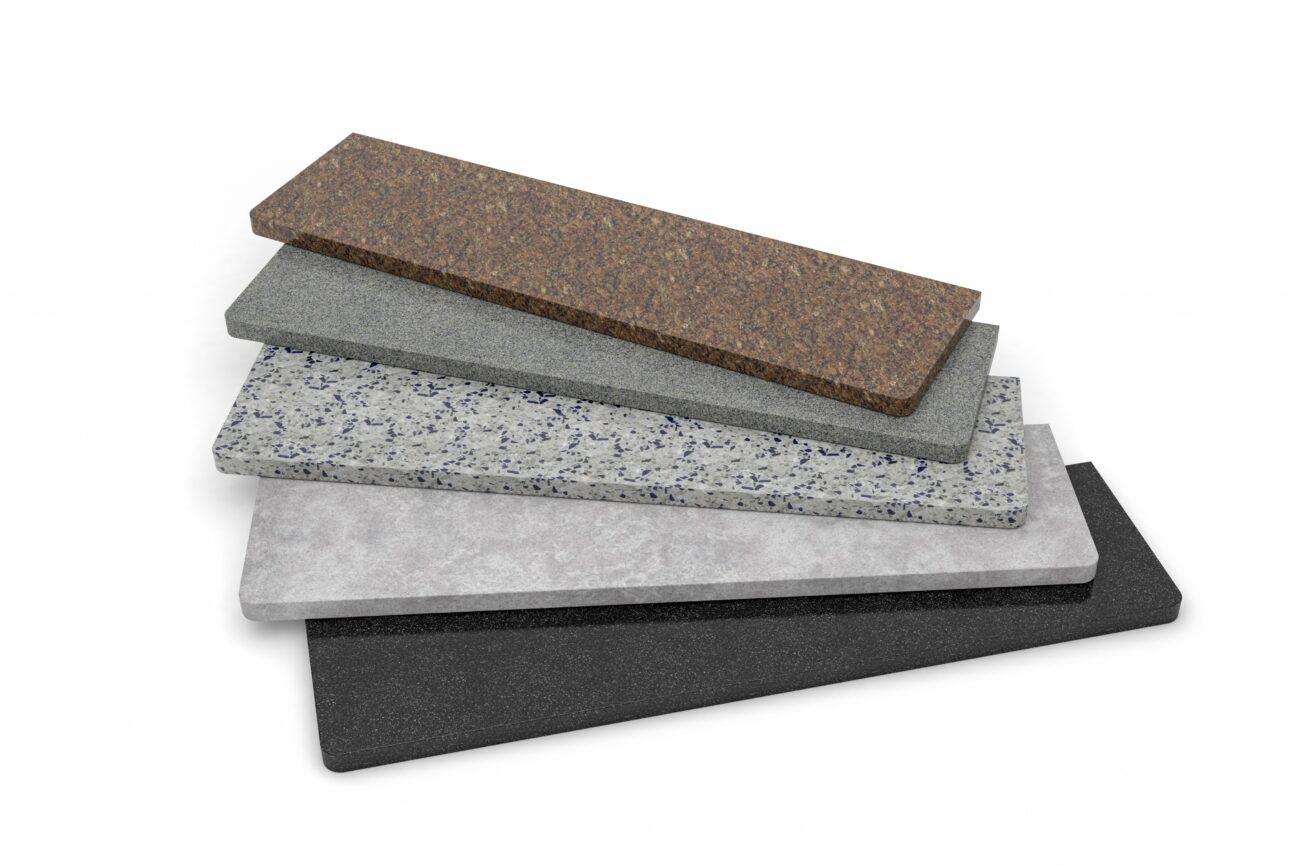 Granite sealing – use and procedure
To protect granite from dullness as well as wear and tear and to avoid permanent pollution is one Granite sealer or. impregnation Recommended within your own four walls. A granite seal on the inside should only be done after a thorough thorough cleaning using special cleaning agents on a dry floor. Depending on the variety, the drying process can take up to eight weeks, especially since a granite floor can absorb and store a lot of moisture. The cause lies in the natural stone's only weak point: its open pores.
Also one Granite sealing outside Due to precipitation, however, dirt and moss is also advisable. All dirt should be removed before the granite sealing, as dirt and moss could be preserved under the protective layer. However, the acid sensitivity of natural stone must be taken into account, which is why not all cleaning agents are equally suitable. Sealed moisture would be an ideal breeding ground for bacteria and germs. This effect can be ruled out, especially in the outdoor area as well as on table and kitchen worktops. In the outdoor area, a cover film offers sufficient protection after cleaning. Once the granite floor has been thoroughly cleaned and completely dry, the sealant can be applied. The manufacturer's information provides information on processing and quantity. As a rule, the sealant should be used sparingly and can be evenly distributed with a brush. Depending on the weather and the product, it can then take between 4 and 24 hours for the granite sealant to dry. If permanent sealants are not used, this process should be repeated every two to three years.
Granite in the house and garden
Granite can be used both in the house and in the garden. Here is some detailed information about granites.
Granite sinks – aesthetic and elegant
Elegant, natural, stylish, timeless – a granite washbasin gives the bathroom that certain something. The washbasins are individually manufactured from a block of granite and the surface is polished to a high gloss in a finishing process. The washbasins are often available in different stone colors, so that the washbasin can be integrated very harmoniously into the interior design. Depending on the color, the varied surface can hide water stains for a long time. In any case, water cannot harm the high-quality granite due to its special surface structure. Both deep washbasins and shallow troughs are available for a Mediterranean flair.
Granite table and granite slabs – insensitive and stable
A granite table is characterized by durability and timeless aura. With a granite table, everyone can bring home furniture of pronounced robustness and aesthetics into their own home. You can choose from different color nuances from light to dark, especially since no two granite tables are the same. Given its classic elegance and solidity, a granite table harmonizes with almost every style of living. The surface is optionally polished, honed or brushed, which gives the stone its very own expression. Because of the low maintenance requirements and its high resistance to weathering, the granite table is also suitable as a garden accessory and is considered to be relatively uncomplicated and undemanding. Countertops in the kitchen are also becoming increasingly popular. Nothing remains on the surface of the granite slab and neither dents nor cuts can be seen even after many years of use.
Granite windowsill – simple elegance and durability
Granite window sills are also part of the repertoire, as are vanities and granite tops. These provide attractive design accents and are considered to be particularly impact-resistant. The granite window sill also makes a good presentation surface for plants and objects and can be coordinated well with the wall color or facade. Furthermore, a granite window sill is weatherproof, frost-resistant, easy to care for, low-noise when it rains and is not subject to any deformation when exposed to sunlight. The window sill is also available in various dimensions and is equally suitable for inside and outside.
Granite tiles for a stylish ambience
Granite tiles blend harmoniously into the ambience. Their longevity quickly pays for itself over the years. After all, granite tiles are mostly frost-resistant and suitable for outside and inside. Due to the waterproof surface and the warm feel, granite tiles are also ideal for hallways, kitchens and bathrooms. The color spectrum is huge and ranges from dark red to blue and white-gray. Granite tiles give every room the right look and a noble shine.